Technology can be used in a variety of ways to enhance mental health and aid in recovery from psychological disorders.   For example, patients can use smart phone apps to help them track moods and symptoms, implement coping strategies, and reach out for help from clinicians and peers when needed.   Most evidence-based, behaviorally-oriented treatments for mental health problems – such as Cognitive Behavioral Therapy (CBT), Dialectical Behavior Therapy (DBT), and Mindfulness-Based Cognitive Therapy (MBCT) – require some degree of self-monitoring.  These types of treatments also strongly encourage daily practices to enhance well-being, such as journaling, identifying and challenging negative thoughts, diaphragmatic breathing, or mindfulness meditation.
Most of the teenagers and college students I work with are far beyond the old pen-and-paper logs and worksheets I was trained to use during graduate school.  It seems there's an app for everything these days, and so many of these apps are relevant to mental health and wellness.  Today's young people organize their lives on their smart phones anyway, so it is only natural that we would look to the smartphone to help them self-monitor their symptoms, complete their therapy assignments, and keep track of the strategies they use to help themselves.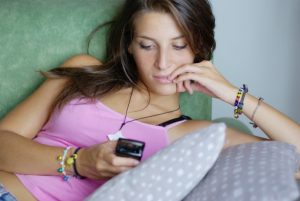 There are literally hundreds, if not thousands, of apps that are useful to people with mental health conditions.  Here are a few of my favorites:
The Recovery Record app helps patients with eating disorders self-monitor their meals and snacks as well as thoughts, feelings, and urges that arise around food.
The Insight Timer app offers a meditation timer, thousands of free guided meditation tracks, groups for like-minded meditators, and the ability to track quantitative statistics such as how many minutes the user spends each day in meditation.
DBT Diary Card and Skills Coach is an electronic version of the Diary Card used in standard DBT practice, which helps the patient track target behaviors and utilize DBT skills from the modules of Mindfulness, Distress Tolerance, Emotion Regulation, and Interpersonal Effectiveness.
The nOCD app helps patients with Obsessive Compulsive Disorder implement their exposure and response prevention treatment while compiling objective, real-time data on their experience.
I am a firm believer that what transpires in the therapist's office is only a fraction of the treatment package.  Most of the healing process results from consistent changes that patients and their families make on a daily basis at home, at school, and in various social settings.   Thanks to modern technology, individuals who are committed to improving their well-being are now able to hold new tools, literally, in the palms of their hands.